Conference Dinner

Set in the historic heart of Nantes, the Castle of the Dukes of Brittany is the region's most important historic building, with the Cathedral St Pierre.

The inner courtyard reveals an elegant 15th century ducal residence of tufa stone, in a flamboyant-gothic architecture style bearing the first marks of Renaissance inspiration and other buildings dating back from the 16th and the 18th centuries.

We hope you enjoyed a 60 minutes tour of the Castle's museum with English speaking guides, a cocktail followed by a gourmet dinner while listening a string quartet playing classical music during the evening.

We were happy to receive you in the Castle for the gala dinner of the FEBS 2015 Conference which together with all the other evening events was free of charge.
Note: Any special dietary requirement for both the lunches and the gala dinner should be indicated by 11th May. 

For more information: http://www.chateaunantes.fr/en/monument.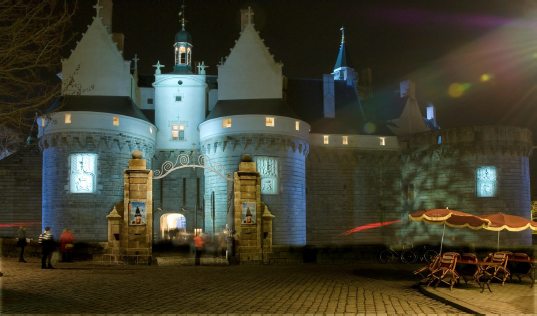 Menu principal / Main menu
Starter:
-Tartare de courgette sur financier au thé vert, cromesquis de cure nantais tiède

-Tartar of zucchinis on cake « Financier » of green tea with a croquette of the famous regional warm cheese named « Curé Nantais »
OR
-Fondant de tartare de noix de veau, citrons confis, crumble noisette
-Fondant veal tartar lemons « confit », hazelnut crumble
Main course:
-Cuisse de canette de Challans, farce champignon, jus en esprit de figues
-Thigh of Challans duck with mushroom stuffing and juices « en esprit » of figs.
OR
-Spirale de veau, langoustine, jus court infuse aux noisettes
-Veal spiral with langoustine and hazelnuts intense in juice reduction
Desert:
-Dôme noir intense, insert passion, croquant aux amandes
-Intense black chocolate dome with passion fruit, crunchy almonds
Menu végétarien / Vegetarian menu
Starter:
-Carpaccio de carotte, vinaigrette passion et croquette tiède
-Carpaccio of carrot, vinaigrette of passion fruit and warm croquette
Main course:
-Aumônière de légumes printaniers et tombée de morilles
-Parcel of spring vegetables and morel mushrooms
Desert:
-Marinade maison de fruits frais
-House marinade of fresh fruit