Keynote Speakers
Edward Altman

Edward Altman is the Max L. Heine Professor of Finance at the Stern School of Business, New York University, and Director of the Credit and Fixed Income Research Program at the NYU Salomon Center.
Dr. Altman has an international reputation as an expert on corporate bankruptcy, high yield bonds, distressed debt and credit risk analysis. He was named Laureate 1984 by the Hautes Etudes Commerciales Foundation in Paris for his accumulated works on corporate distress prediction models and procedures for firm financial rehabilitation and awarded the Graham & Dodd Scroll for 1985 by the Financial Analysts Federation for his work on Default Rates and High Yield Corporate Debt.
He was inducted into the Fixed Income Analysts Society Hall of Fame in 2001 and elected President of the Financial Management Association (2003) and a Fellow of the FMA in 2004, and was amongst the inaugural inductees into the Turnaround Management Association's Hall of Fame in 2008.
In 2005, Dr. Altman was named one of the "100 Most Influential people in Finance" by Treasury & Risk, Management magazine.
Dr. Altman is an advisor to many financial institutions including Paulson and Company, RiskMetrics (MSCI), Classis Capital (Milan, Italy) and Equinox, S.A. (Switzerland); as well as on the Board of the Franklin Mutual Series Funds. He was an advisor to the Centrale dei Bilanci (Turin, Italy) and the New York State Retirement Fund, Automated Trading Desk, Inc. and Concordia Advisors. He is also Chairman of the Academic Advisory Council of the Turnaround Management Association.
Bob DeYoung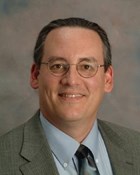 Robert (Bob) DeYoung is the Capitol Federal Distinguished Professor in Financial Markets and Institutions and Director of the Center for Banking Excellence at the University of Kansas School of Business.  In addition to his university duties, Bob is a Senior Fellow at the FDIC's Center for Financial Research, is co-Editor of the Journal of Money, Credit and Banking and teaches each summer at the University of Limoges and the Barcelona Graduate School of Economics.  Before joining the faculty at Kansas, Bob held positions at the Federal Deposit Insurance Corporation, at the Federal Reserve Bank of Chicago, at the Office of the Comptroller of the Currency and at Beloit College.  He served as President of the Southern Finance Association in 2012-13 and is a past editor of the Journal of Financial Services Research.  Bob earned a bachelors degree from Rutgers University-Camden and a doctoral degree in economics from the University of Wisconsin-Madison.  He and his wife Julie live on a ranch outside of Baldwin City, Kansas.